---
---
There is a ton of bait set up in all the right places throughout Boston.  The early morning has produced some incredible top water action with big fish feeding on 3-4″ herring.  Sharks and Tuna are starting to show up offshore and it wont be long before Fishing Frenzy starts Tuna and Shark fishing.
---
---
On a picture perfect evening I had Bobby T from the marina charter the boat to catch the afternoon outgoing tide.  As we left the dock we both couldn't believe how nice the weather was.  Soon after we spotted the bait fish breaking the surface Bobby T caught mackerel for me to put in the live well.  The bait lasted one minute in the water before some nice 30-34″ bass inhaled them.  Most of the hookups were within 15 feet from the boat as we watched the bass attack the bait.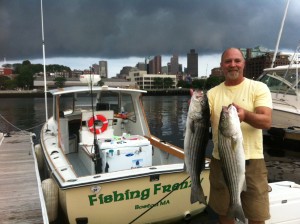 ---
---
The Frenzy was back on the water over the holiday weekend looking to beat the heat.  We had some great friends aboard July 4th to celebrate a 6 year anniversary.  With light winds and great visibility we we able to load up on mackeral and bluefish over the weekend.  Everyone had a blast catching these hard fighting fish on light tackle.  Some of the bluefish jumped 5 feet in the air after the initial hookup!